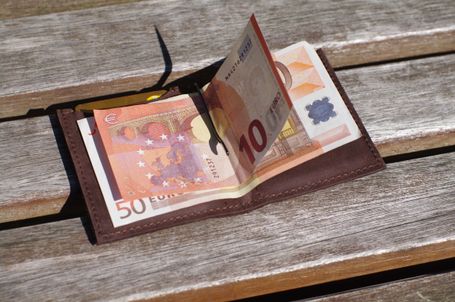 Are you looking forward to purchase a new leather wallet? Then you will have to pay attention towards a variety of factors. It is a time consuming process and could be frustrating as well. Here is a comprehensive guide that you can follow in order to purchase a leather wallet.
Leather is the most common material that is being used in order to make wallets.  Different types of leather are being used to manufacture wallets. Cow leather holds a prominent place out of them. Wallets that are made using cow leather are great looking and durable. However, this type of leather would not be much sleek to your touch. A soft type of leather such as calfskin would be able to provide you with a more luxurious feel and it is better to invest your money on such a wallet. The second most popular type of leather that is being used to make wallets is alligator skin. Alligator skin wallets can easily be identified because of their distinct pattern. You don't need to keep any doubts in your mind about the craftsmanship and quality of the wallets that are made out of alligator skin because most of them are handmade products. However, you need to keep in mind that there are lots of fake versions of alligator skin leather wallets out there in the market.
When you decide whether you are going to purchase a leather wallet made out of cow skin or alligator skin, you should determine the exact type of the wallet that you are going to purchase. When it comes to leather wallets, the bi-fold wallets are extremely popular. This can be considered as the basic and traditional form of wallet that is available for men. The bi-fold wallets can further be divided into two additional categories. They include bi-fold wallets, which consists of two equal sides and tri-fold wallets that consists of two sides that overlap over the central part. If you prefer convenience, you can think about spending your money on a slim wallet. The popularity of slim wallets has increased significantly throughout the past 5 years. The increasing popularity of slim outfits has contributed a lot towards the above mentioned fact. However, slim wallets lack functionality and you will only be able to carry a maximum of four cards. Therefore, you should pay attention towards your specific requirements when purchasing a wallet.
The leather wallet you purchase should be free of zippers. Leather products that come along with zippers are ideal for children and women. If you want to carry loose change, you can think of taking them inside your pockets. In addition, you need to pay attention towards the color of leather wallet that you are going to purchase. It should be either brown or black. Both these colors are in a position to deliver a luxurious look to your wallet and you would love to carry it wherever you go. These facts will assist you to find the best leather wallet out there in the market.